About -Club Information
Keystone Lake Map
Directions to Windycrest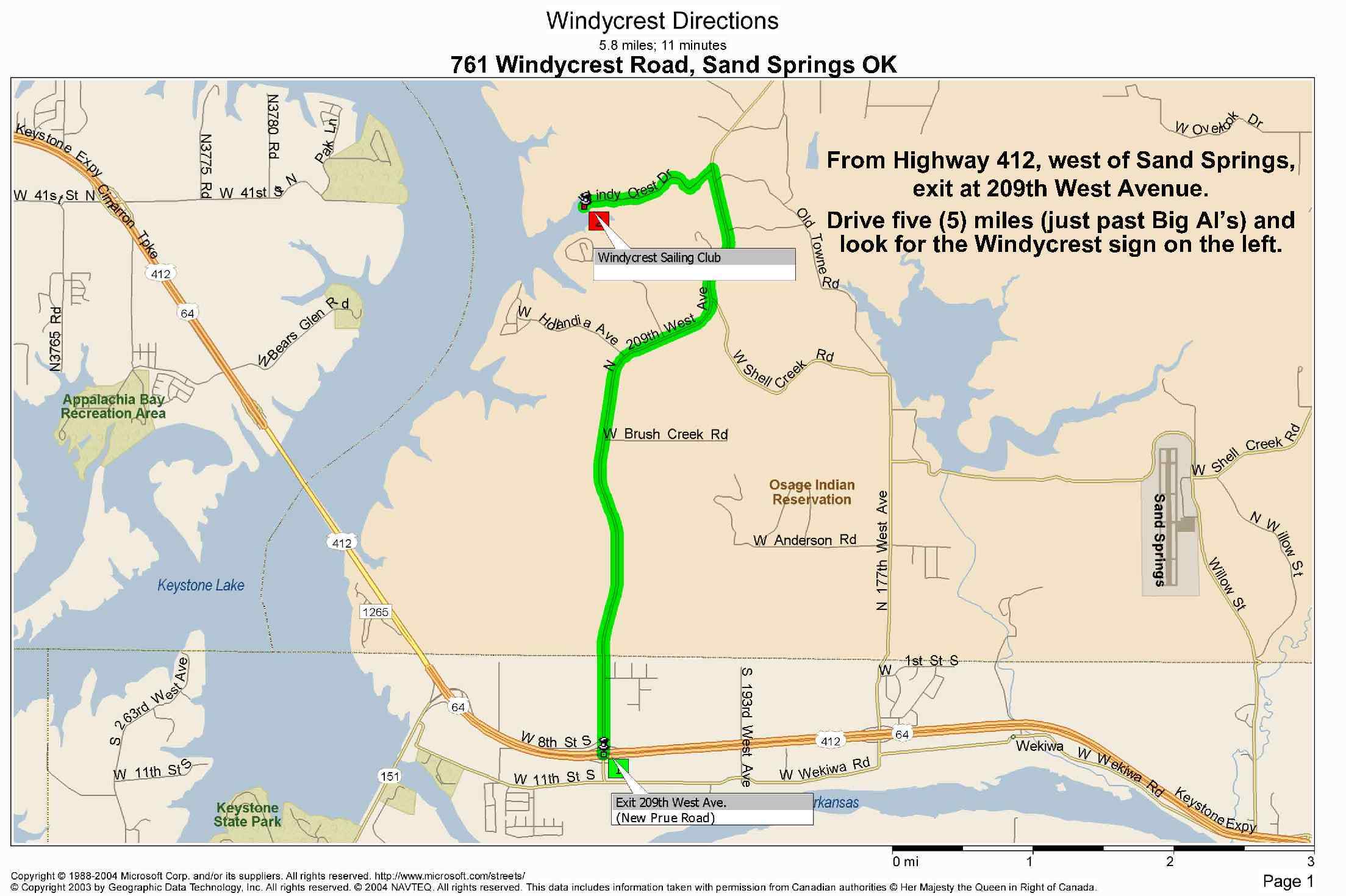 Directions from maps.google.com
The Club - Established in 1965
Thank you for your interest in Windycrest Sailing Club. Many members feel it's the best club anywhere. It's a terrific mix of keelboats, centerboard boats, racing cruising, and social events that offers something for all sailors. Lots of clubs can tout facilities, size, location, price, amenities and so forth. Windycrest stands with the best of the m, but what sets us apart and is our most important asset, the membership itself. Club members contribute their time an d skills to better the club. All improvements and events are planned and executed by the membership. It is a special re lationship between the club, the members, and the individual. This "Windycrest Spirit" -a helpful, friendly, responsible can do attitude- that past and current members exude started back in 1965 and has built Windycrest into the special plac e that it is today.
Our History
Windycrest celebrated it's 50th anniversary in 2015 and commemorated the event with a special book containing articles written by various member of the club. You can read about the formation, the first and second twenty-five years of the club's history in our Golden Anniversary Book.
Membership
Check out our Membership Page for information on joining.
Activities
You will find Windycrest a very active sailing club. We stay busy with an extensive schedule of events running from March t hrough November. Below are some of the regular activities to get involved with.

Club Centerboard and Keelboat Racing: Series racing for both one-design and handicap racing (PHRF Numbers for Handicapping). Holiday long distance races. Annual ALS Charity Regatta. Windybowl regatta for juniors. Windycup - the all club championship.

Championship Events: US Sailing championships and ladder events. National, regional, and district regattas.

Central States Sailing Association Regattas: Annual spring regatta, CSSA junior and women's regattas.

Training Programs: Learn to sail program for kids 8 to 18 years old. Adult men's and women's training programs. Taught by US Sailing/Red Cross certified instructors.

Cruises and Raft-Ups: Sunset sail-always, overnight excursions, restaurant visits, sandy beaches, wildlife watching, enjoy it all at your own pace.

Brunches and Theme Parties: Memorial & Labor Day Brunches, Luau, Cheeseburger in Paradise, Chili-cook-off, and more!

Pot Luck Dinners and Beach Parties: Fun informal get-togethers for members and their guests.

Fleet Meetings and Activities: Trade ideas and tips for sailing your class of boat. Share in fleet projects, race committees , and in the camaraderie of others with like interests.

Want to buy a Sailboat?: Check out our Classifieds page, you're likely to find a great deal that's just what you're looking for.
Facilities
While you won't find a restaurant, bar, or fancy clubhouse; what you will find are superb facilities that enhance your sailing activities: There are 104 slips on 4 docks; 124 centerboard trailer spaces; 24 moorings, 4 club dinghies to use; 27 dry-sail keelboat spaces; 26 space centerboard boat dock; a centerboard tie-up dock; 3 boat wide launching ramp; 4 club owned power boa ts; 4 boat Laser training fleet; 18 boat Opti/Sabot training fleet; 6 boat Club 420 training fleet; hydro-hoist boat lift for member use; mast raising device; 2 level Pavilion; modern shower house; primitive camping area; boat trailer storage area; tr avel trailer/RV parking area; ample car parking; full time facilities manager, and security gate.

Note: Windycrest is protected by a security gate and surveillance cameras. Contact the Vice Commodore to gain access.